The price of Monero had been pretty stable at around $40-$50 for the past few months. This all changed in the past 24 hours though, as the currency's worth jumped over 50%. At the time of publishing, it is currently trading at ($87)
The reason for the increase was due to the South-Korean exchange Bithumb – the world's most used cryptocurrency exchange – announcing that it is to start supporting Monero deposits from August 23rd with trading beginning on August 27th. Anyone that deposits during the deposit period will receive a 1% premium, and the top 50 biggest traders (in volume) from midnight on August 26th through to August 27th will receive 100 XMR.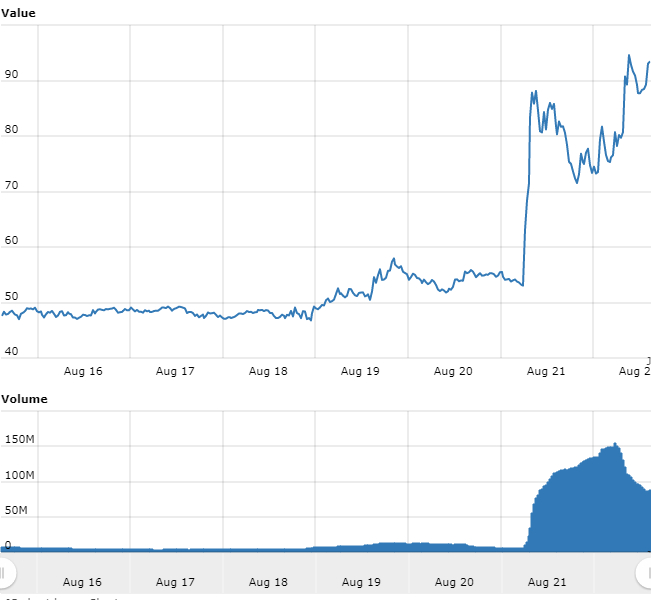 The listing of Monero is very good news for the currency that has seen little traction for a while.
Unlike Bitcoin, Monero transactions and wallet balances can be totally anonymous which makes it very difficult to trace movement of money. Also there is no developer fee and it has an adaptive block size, which means there will be no transaction size issues similar to those that caused the recent Bitcoin Fork.
Will the price rise further? Most likely yes as trading gets underway, because more people will see Monero as a valuable asset to own. If you want to invest in Monero – and you didn't already own some – act fast before its too late!*
You never know how high it might reach!
Do you own any Monero? or Do you plan to purchase some now? Let us know in the comments below!
*Disclaimer – Cryptosphere.world's analysis and predictions are purely speculation based on current market trends. Do NOT purely rely on us when making investments. We do not accept responsibility for any money lost following our recommendations!